2020.08.20 Release Note
Feature update : JavaScript in the control group is now editable
What's New
The control group JavaScript can now be edited when setting up a web message campaign for delivery. This update allows you to align the JavaScript conditions and criteria when comparing control groups and regular patterns.
A control group is a symmetrical group that does not deliver a measure. By setting up a target group that is not delivered by the control group intentionally, the results are compared with the symmetric group to which the measures were delivered.
Example of a case that requires configuration
By integrating Repro with Google Analytics, you will be able to compare the results of your measures on Google Analytics. To prepare for this, the event names to be sent to Google Analytics must be added in the JavaScript of Repro.
If you want to see the results of the control group and the regular pattern in Google Analytics, you will need to set the names of the events you want to send in Javascript separately.

Please note
(If the control group is not set, JavaScript cannot be edited by selecting the control group tab.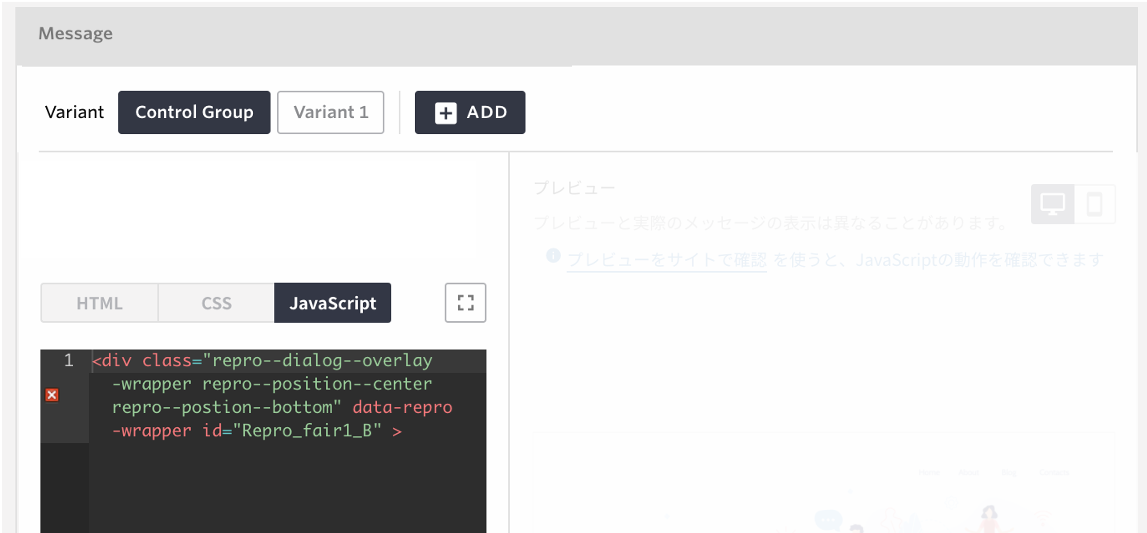 Processing required to use this service
To enable this feature, go to the "Project Settings" in the "Repro management" screen and turn on "Enable JavaScript editing for Web messages".

This feature is enabled by turning on the Enable JavaScript for Web messages feature in the Repro admin page, under "Project Settings".

The above JavaScript editing function can be set only for the owner of the access rights.
Functional requests and questions
If you are a Repro user: please contact us via the #feature-requests channel in the user Slack channel Pluto. Or contact your CS representative directly.
If you are not a Repro user, please use the form to contact us. One of our representatives will get back to you.